Completed Build 1 + Tear Apart: HG Purple Frame Unicorn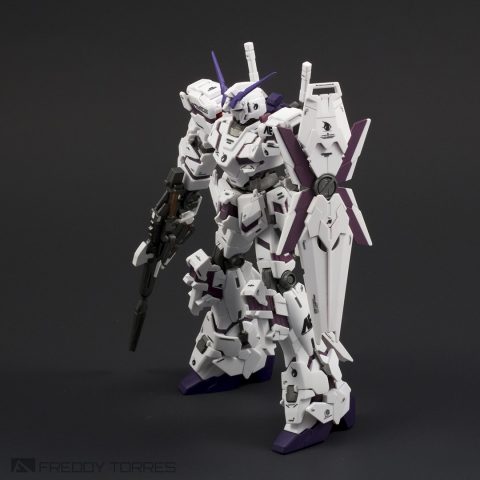 | | |
| --- | --- |
| Base Kit: | HG Unicorn Destroy Mode |
| Mods: | None, just paint |
First kit I attempted anything with other than snap fitting. Everything was hand painted except the white armor parts.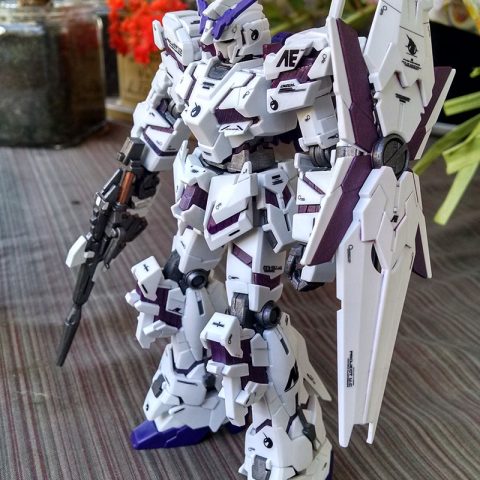 Tear Apart
Now for the fun part. Ripping it to shreds. I'm still relatively new to the hobby and only recently started painting and modding kits.
As with a lot of other things, it's good practice to look back at your old work and criticize it. This let's you figure out what you could've done better and how to prevent mistakes in the future.
So here goes…
Paint
First up, the paint. Definitely should have painting the white armor pieces. It looks decent with the decals and top coat but it could've looked so much better.
Always use primer. I didnt use any primer at for the metallic frame pieces and now the paint is starting to chip off in some spots. Also, hand brushing metallic paint doesnt give the best results.
Hand painting white just paint sucks as well. The combo of crappy hand painting skills and the difficulty of getting even coats of white paint paint ruined the gun.
Panel Lines
I used a gundam panel line marker to panel line this kit. I'll go ahead and say this, gundam markers on bare plastic absolutely sucks. Dry ink was super easy to rub off and resulted in a lot of uneven panel lines during clean up as noted below. I even forgot to panel line some areas… ugh.
If you want to panel line without painting a kit i would definitely suggest clear coating first.
"Weathering"
My attempt at weathering with real touch markers. Might have come out decent if the I didnt try the red real touch marker first. It stains white plastic… Tried covering it up with grey but didn't work. See below…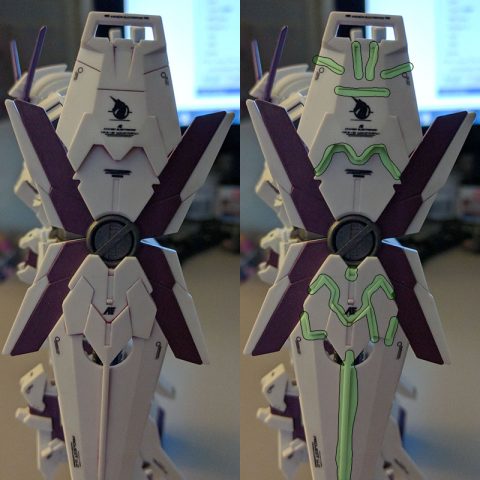 SEAM Lines
The only real seam line on this kit besides the backpack is on the gun. Didn't remove it and now it makes me sad looking at it. Didn't remove the seam line from the backpack as well…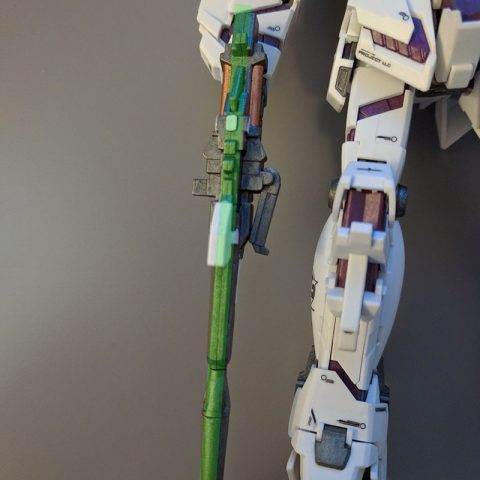 Hopefully some people will learn from my mistakes. Remember everyone in the hobby started at zero.

Source: Freddy Was Wrong